5 Reasons Why Influencer Marketing Is Important For Your Business
The relatively new term "Influencer Marketing" is a process of activating and finding individuals who influence a targeted segment on a specific social media channel. These influencers become a part of a campaign that aims to reach this segment in order to increase sales and engage users with the promoted product. (Sudha & Sheena, 2017). In other words, influencer marketing is a way for different brands to build relationships with new audiences and turn their existing consumers into even more loyal customers.

There are a lot of reasons why one should incorporate influencer marketing into your marketing strategy. Below, you will find our top 5 reasons why influencer marketing should be included in your marketing strategy.  

To keep up with the competition

The first question that needs to be asked is if your product will get attention from enough people? For example, if you have a niche product and you try to target the masses, it will probably be a harder sell. Using influencers helps you tap into the audience that these individuals have gathered who identify with your product.

Make yourself legitimate
By maintaining and establishing your presence online, your business can show your customers that you are open and active. You can combine tweets from influencers to cause the purchase intent  to go up by 5.2x which will allow the company to win and retain a customer base that is suitable for your brand.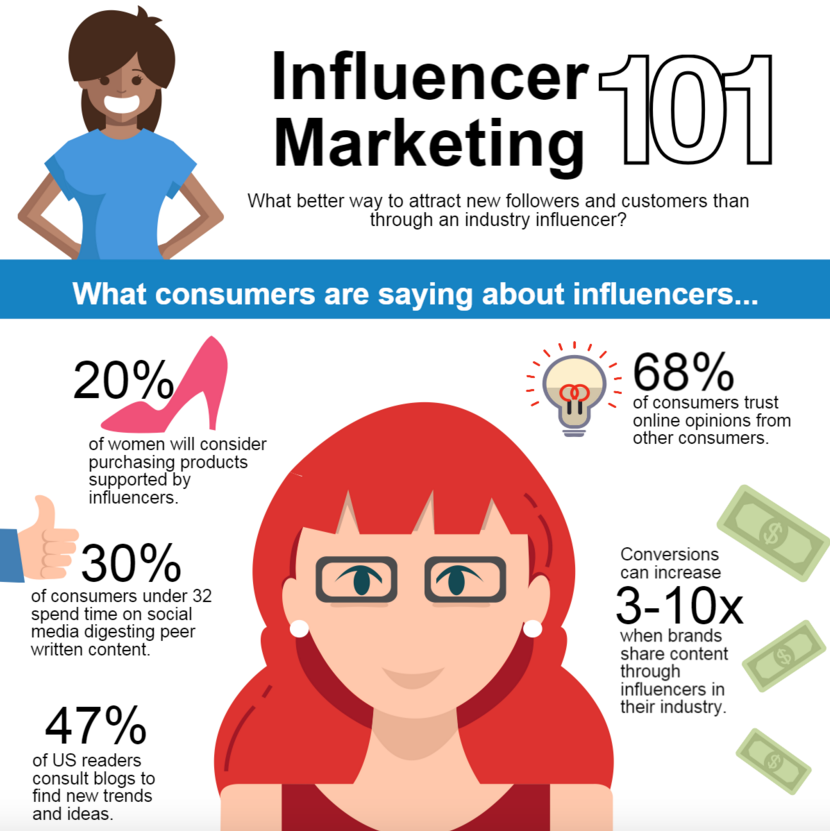 Consumers trust recommendations from influencers

With the steady increase of social media activities, your brand is losing its power. There are so many products to be seen out there. You can easily gain more significance with influencer marketing. It is said that 68% of consumers have been influenced by recommendations and content from influencers' posts.

The change from celebrities to opinion leaders

Today's opinion leaders, also known as influencers, play a more of a pivotal role than celebrities. Opinion leaders are where the consumers get an honest, well, opinion. Another important thing to remember is that you should not solely focus your attention on the number of followers an influencer has. Instead, you should focus on how the influencers' values in their posts agree with what your brand stands for. It is better to reach a smaller targeted audience that is interested in your product and identifies with your brand.

The growth of social media

Social media channels are rapidly growing. These platforms are where the majority of influencers connect with consumers, which is essential for a brand's marketing strategy. One of the most influential social media platforms is YouTube which let's influences speak at length on a topic and, hopefully, on your brand.  

Influencer marketing isn't for every brand, but being active on social media, having the right products and having influencers as part of your marketing team are all powerful weapons to have in your arsenal.